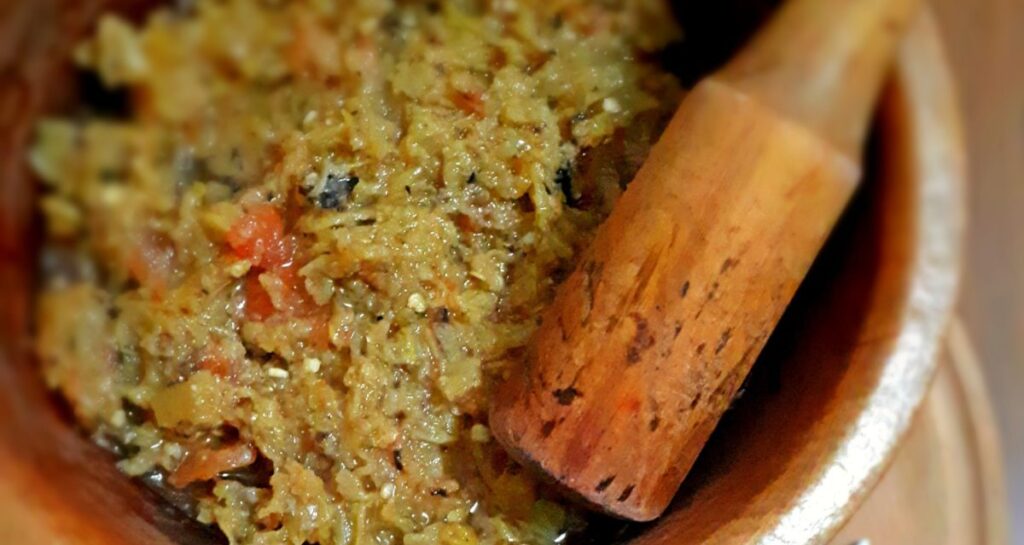 Pindjur
Pindjur (pronounced pin-jooh-r) is a condiment, a spread or a dip based on vegetables such as peppers, eggplants, tomatoes, garlic and chili pepper. This preparation comes from the center of the Balkans in Macedonia.
It resembles the lutenica and ajvar of neighboring countries but it invariably includes eggplants. The peppers used in the preparation of pindjur are cowhorn peppers very fragrant but not necessarily too spicy. These are very popular in the Balkans and were established very soon after their discovery in the New World.
The pindjur, although originally from Macedonia, has been exported throughout the region and can be enjoyed in Bosnia and Herzegovina, Bulgaria and Serbia.
Pindjur can be enjoyed as a spread on flat bread sprinkled with grated white sheep or cow cheese, also as cold appetizer accompanying rakija/mastika/white wine or other apperitivos. It also accompanies well cheeses such as feta cheese.
Ingredients:
750 gr green peppers (mild) and chilly pepper (if You prefer the pindjur spicy)
4 red tomatoes
1 eggplant
1-2 cloves garlic
100 ml sunflower oil
Salt
Preparation:
The peppers, tomatoes and the eggplant are grilled. Once they are done, cover them with plastic bag and once they cool down, remove their skin/seeds. Cut them in small pieces, put them together in a bowl and add the finely chopped garlic. Mix well and add salt as per Your preference. Heat up the oil and simmer the pindjur. Bon Appetit!:)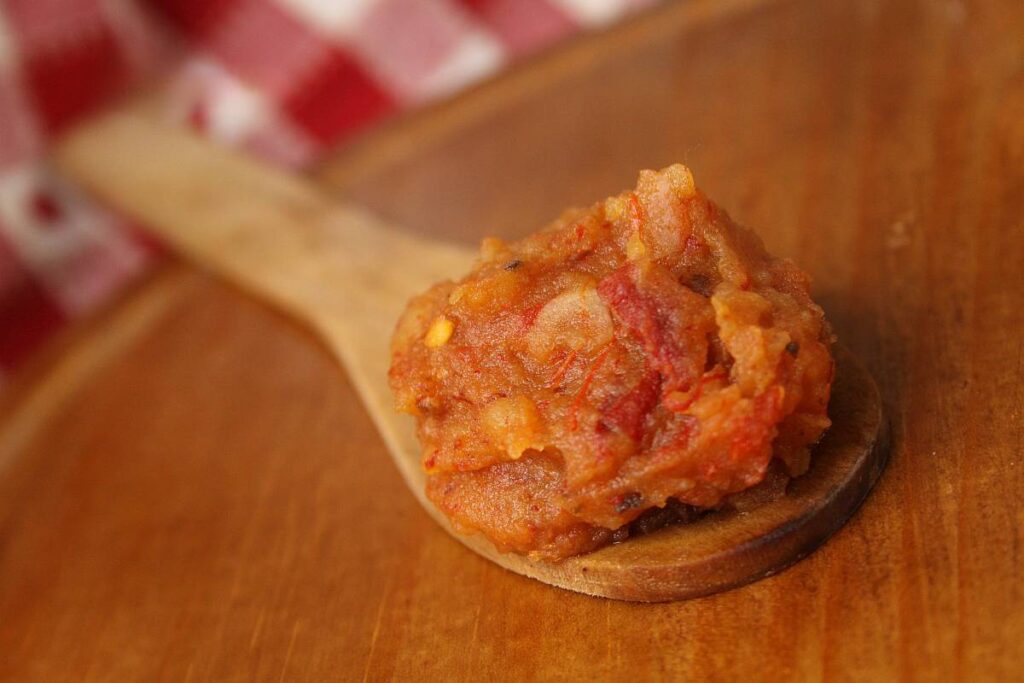 Makalo
Traditional Macedonian makalo with boiled potatoes mixed with dried peppers. Mostly it is prepared with red hot peppers, but you can use sweet dried peppers too. It's very easy to prepare, combine it with warm bread and white sheep/goat/cow cheese on top and impress Your family and friends with this unique Macedonian style bruschetta:)
Ingredients:
10 dried peppers (hot or sweet)
3 potatoes
3 cloves garlic
Salt, pepper
Oil
Preparation:
Boil peppers and peeled potatoes.
After boiling, strongly mash garlic, potatoes and peppers and mix.
Add salt and pepper.
At the end, warm up oil and pour over the mixture.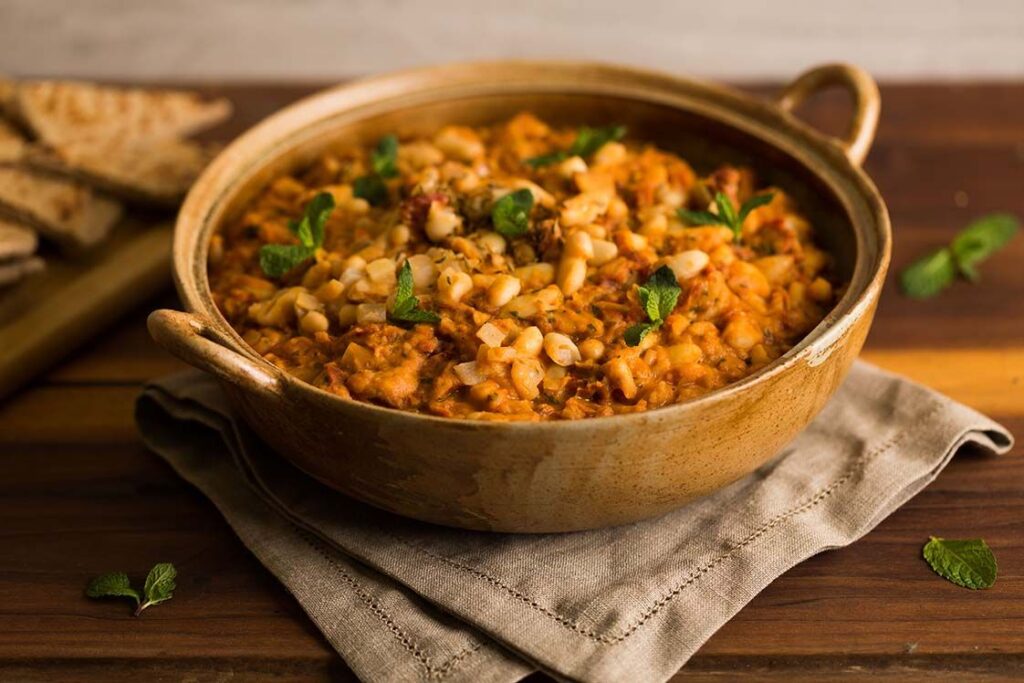 Tavche Gravche (baked beans)
Baked beans or tavche gravche is a traditional Macedonian dish which is made in a traditional clay pots. It's one of the most famous Macedonian dishes, healthy and easy to prepare. Tavce gravce literally means 'beans cooked in a pan', the 'pan' part coming from the Turkish word, 'tava'. The name harks back to the legacy of food preparation in the area that revolved around open flames, with grilled meats yoking the tradition of social cook-ups – cuts of pork grilling over open coals, and stews bubbling for hours, days in clay pots and dutch ovens.
Ingredients:
500 gr beans
1 onion
1 clove garlic
1 tbs paprika
Oil
Salt
Black pepper
Fresh parsley
Mint
Bay leaf
2-3 hot peppers
Preparation:
First we clean and wash the beans and then we put them in a pot with water to stand overnight, so beans soften better.
Once the beans stayed overnight, pour out water and pour in fresh, and put the pot to cook on lower temperature. After the first boil, pour out water again, wash the beans and fill with fresh water (around 2-3 fingers above the beans), add black pepper and bay leaf. Be careful about the amount of water in the pot while cooking, it should be neither too little nor too much. Once you cook the beans, add hot peppers, so they could slightly soften while cooking.
Put the finely chopped onion in a frying pаn and add some oil. Fry it for a while, then add the finely chopped garlic and the paprika. Cook for a while. Pour beans into clay pot, add the mixture from the frying pan, then add salt and stir.
Put in the oven to bake for a while just to catch crust and some color. The beans should not be dry. After baking, add some dried mint on top and decorate with one bunch of fresh mint and fresh parsley.

How to serve: Tavche gravche is served hot and can be served in combination with kjofte (meat balls), sausage, bacon and ribs or fish. We recommend a cabbage salad on the side with this dish.
We selected these recipes from "Macedonian Cuisine" – great blog collection of many recipes for traditional Macedonian dishes.